Our Team
Our team members are here to help! Geoff and Mark both feel very fortunate to have a wonderful team here at Angler. A team they and our customers can count on.
If you have an emergency, please call (937) 256-3473. If you have a specific question for one of our team members, send us an email and we'll gladly get back to you.
Geoff Ganz, Partner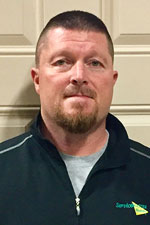 Email Geoff
Geoff serves our company as an Owner and Partner. Geoff grew up in Powell, Ohio and was introduced to the construction industry at an early age. Geoff brings over 25 years 'experience as a business owner and operator. Prior to ServiceMaster by Angler, Geoff was the owner of a Stanley Steemer franchise on the east coast, a ServiceMaster franchise, as well as Curry Creek Construction in Southern Ohio. His strong work ethic and passion for success has enabled him to work all over the United States.
After spending nearly 10 years in New York, his family roots brought him back to Ohio. Geoff is family and community focused. He and his wife, Holly, enjoy watching their daughter Mia play soccer and spending time with extended family. He is also the President of The Wilmington Rotary club.
Mark Gerken, Partner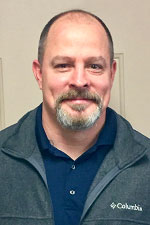 Email Mark
Mark serves our company as an owner and partner. He comes from a large family and grew up in Toledo, Ohio. With over 20 + years of experience in Service Delivery, Team Building and Sales, Mark brings strong leadership skills to ServiceMaster by Angler. He is accustomed to running multi-site business units that cover large geographic areas and is excited to put his pride and focus on his hometown market.
Prior to settling in Centerville nine years ago, his family spent thirteen years living in Arizona, New York and the Greater Philadelphia area. With a strong sense of community, Mark enjoys volunteering and giving back. He and his wife Lacy have 2 beautiful girls, Remy and Beatrice. When he's not in the gym watching his girls playing volleyball, he spends his downtime with family and friends.
Heather Moody, Controller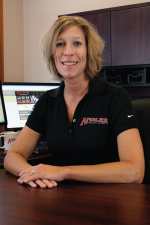 Heather serves our companies in the role of Controller. She brings an extensive financial background to the team and assists with budgeting and profitability. She manages accounts receivable, accounts payable, job costing, payroll, monthly financials, human resources, employee benefits, our insurance claims process as well as our administrative team. Heather is customer service driven and proud to work with a team that has helped and continues to help restore not only homes but lives since 1971.
Heather and her husband, Eric, enjoy traveling to the beach, golfing, good food and spending time with friends and family.
Tony Walker, Project Manager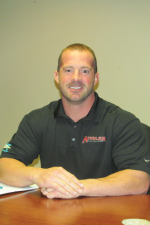 Tony serves our company in the role of General Manager of the construction division and joined the team in May of 2012. Prior to Angler, he spent 15 years in the wholesale grocery distribution business in sales and management. Tony and his wife, Miranda, like spending time with friends and family and enjoy watching their two daughters perform in competitive cheerleading. Tony likes to stay active and fit, and likes to stay up-to-date on the latest trends in exercise and nutrition.
IICRC Certification #197183 Water Damage Restoration
Holley Freeman, Business Development Representative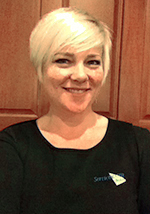 Holley serves our company in the role of the Business Development Representative. She joined our team in early 2013. She has become a wonderful addition to the Angler Team. Holley works diligently to create, develop and maintain our business relationships through direct marketing on a daily basis. Holley works consistently in the market to understand the needs of our customers. This position is very challenging, because so many agents have different needs. Her position delivers exceptional value to helping insurance agents retain business, when their customers experience a loss.
She has 10+ years of customer service experience. She utilizes strong inter-personal communication and written communication skills to help educate and maintain our customers. Holley simply loves helping others. Holley enjoys networking with the people in our community and to help provide assistance when in crisis. She truly appreciates the community outreach part of this position.
Holley is married with 3 children. She spends the majority of her time juggling kids, sports, and family time. Holley enjoys exercising, spending time with her sisters, and living life to its fullest.
Roger Pauley, Superintendent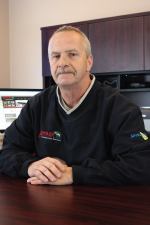 Roger serves our company in the role of Superintendent. His duties revolve around the day to day operations of our restoration projects. Roger has been in the construction business off and on since 1978 and he has been employed with Angler Construction since 2006 and thoroughly enjoys working for Angler. Roger enjoys the day to day variety and challenges that are brought upon us, working for the best restoration company in the Dayton area.
Roger likes to spend quality time with his family and friends. He is married to a very hard working wife and has 4 great children. He and his wife like to get away occasionally, going to different places and doing things out of the ordinary. Roger's hobbies include fishing, cars and going to car shows.

Amanda Wills, Project Coordinator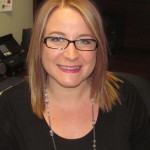 Amanda serves our company in the role of Project Coordinator. She joined our team in July 2014. She has worked in the construction industry for 10 years. Amanda has a background in property and project management. Amanda provides administrative support to the production team with strong organization and communication skills. Amanda works diligently with homeowners throughout the entire restoration process to make sure complete customer satisfaction. Amanda enjoys her job because she works with different people daily and is always challenged . She says, "Every day brings a new opportunity to challenge myself to offer a better solution for our customers."
In Amanda's down time, she spends time with her fiancé, Mike, his two beautiful daughters and her son. She enjoys watching her son play football and basketball. During the summer she enjoys spending time with her family & friends at the lake or anywhere near water.
Testimonials
Jon, Justin, Matt, & Holley, I just wanted to let you know that Dennis Myers just left my office. He came by to let us know how thrilled he has been so far with the service that has been provided with Auto-Owners Insurance and Angler Construction. This was obviously a devastating loss and he said […]

—First Group Insurance Agency

Greetings, The Fairborn Professional Firefighters Local 1235 would like to extend a HUGE THANK YOU! For your support in the "Turning Up The Heat on Breast Cancer" Campaign in 2014. Because of your support we were able to raise over $20,000.00 in 2014 all of which went to The Pink Ribbon Girls. Yours in making […]

—Fairborn Firefighters Local 1235

To whom it may concern: In August 2015 I entered into an agreement with Angler Construction Services for some work to be done on my residence. The majority of this work included removal and replacement of 24 windows, complete interior as well as exterior paint, removal of some exterior siding and replacement with high-quality PVC […]

—Kurt S.

Your timely response and expertise in halting the water damage, and preparing for removal and repair were very comforting. During the renovation component of the project, all members of your team performed exceptionally well, and provided nothing but the best of service.

—J. B.

All Angler people are SO nice and did an excellent job. 100% HAPPPY! Keep doing what you do! Download PDF

—William Deboard

We wanted to send our heartfelt thanks for your help during the of time our house disaster. Your expertise and confidence gave us tremendous relief to know that our house could be restored and that it was in good hands. You saved our house!

—Oliver E.

I love working with your company and the work is always great!

—David W.

I couldn't believe that you handled every single item in our house with such detail. I couldn't believe you inventoried every single item with accurate detail to damages.  All of my contents came back in the same condition before the fire. Your company truly understands detail. Thank You.

—Marsha

No task was to small. Every detail was explained excellent cleaning and accurate detail to all or our belongs was great. The movers were great as well…. Terry- what would we have done without her? She's the best!

—Tim and Marty R.

Great company. Great Job, Professionalism was superb.

—Carol P.

You can't tell there was a disaster here. I couldn't have asked for more. I was very impressed with the workers competence and hard work.

—Sue McSherry

"I'll call you every time I need construction services."

—David and Lynne W.

"Overall impressions were excellent. We were very pleased with Angler. Everyone we met was very professional and knew what to do."

—Jane and Hershell R.

"Very impressed. We had some high maintenance issues that they resolved for us."

—Chris B.

"Excellent job on the communication. Troy always worked great with us. No complaints at all about the construction. Very happy with my home."

—Pauline A.

"They DO IT RIGHT!"

—Local business in Tipp City, Ohio USA

"The professionalism of the entire ServiceMaster Restore by Angler crew impressed me the most."

—Robert K.

"They were great. I am very thankful for a job well done!"

—Helen M.

"Everyone was kind, courteous, and willing to work around my schedule. Thank you for all your patience."

—Maria S.

"Roger & Johnny were always prompt, respectful, knowledgeable – Great!"

—Greg B.

"I appreciate that Angler worked with me on my time frame and everything was done to make me, the homeowner, happy. My house is now a home again thanks to the hard work Angler Services put into it."

—Sally

"Thank you for your prompt attention and guidance. Angler said they could have the windows that were broken out by the fire department boarded up within an hour and they did! Angler Services has been without delay in every aspect of renovating the property and was very good about keeping me informed as to what […]

—Joe Smith